Breeding Events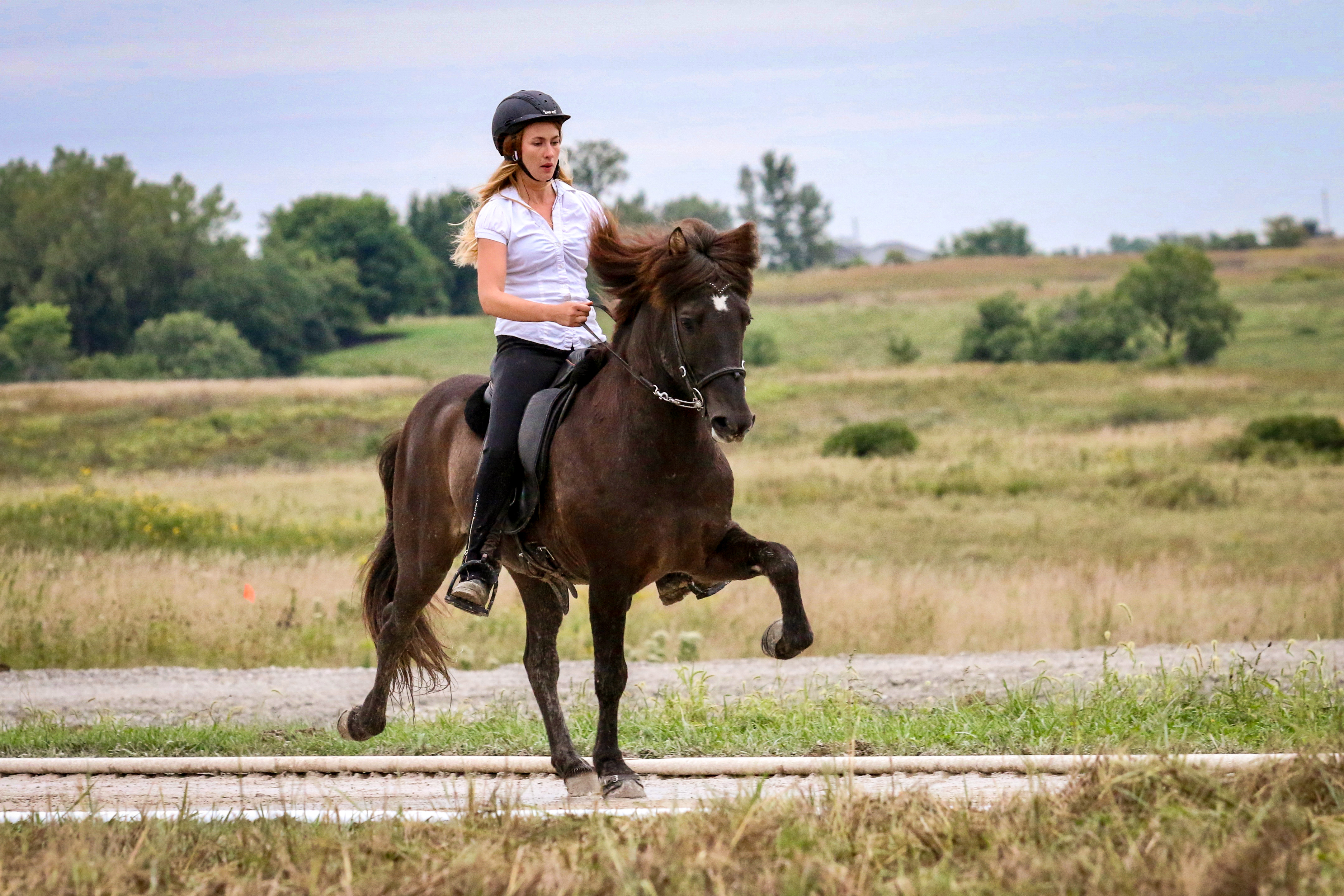 Keli from Tolthaven, photo courtesy of Susy Oliver
Breeding Evaluations
Young Horse Linear Description
Would you like a crystal ball that could give you a glimpse into the future? The Young Horse Linear Description system provides breeders and buyers of Icelandic horses with something like that: detailed information about the potential present within the conformation, spirit, and gaits of a foal or young horse. Foals over 21 days old and young horses up to four years old are evaluated individually while running loose in an arena; they are judged on conformation, character, and gaits.
A specific pattern of conformation, character, and gaits indicates what type of activity the horse is likely to excel in, whether that's Icelandic sport competition, obstacle course work, endurance and trail riding, or working with novice riders. This knowledge can then be applied when planning the future of even a very young horse. We can avoid forcing a horse to fit into a role for which it was never designed. In addition, the pattern of conformation, character and gaits tells the breeder very early on if they were successful in producing a horse that matches their breeding goals. Rather than having to wait several years to find out how good a certain stallion/mare combination is, a Young Horse Linear Description can indicate very early whether or not a certain breeding should be repeated.
The details of the system have been developed over many years by Barbara Frische and her FEIF international breeding judge colleagues. This true linear description form is based upon statistical data and is totally different from the Breeding Evaluation system. The two systems complement each other. Each young Icelandic horse is scored on a total of 41 characteristics of conformation, character, and gait. Each characteristic is rated on a scale of one to five, with pluses and minuses providing 13 possible assigned values. While this sounds complicated, a few judges in Europe have become masters at applying the system after having evaluated large numbers of young horses (nearly 1,000 foals annually). This scoring system provides an excellent picture of a young horse even if you've never seen the horse. Someone looking to buy a trained horse, who has access to the initial Young Horse Evaluation scores years later, can get an excellent sense of the horse's inborn talent and temperament, versus its skill acquired through training and its rider's ability.
The USIHC Breeding Committee encourages the wide spread use of this valuable educational tool. Buyers of young horses can know what potential is present within the young horse they are considering. Buyers of older horses with access to the original data will be able to have a sense of what skills a horse demonstrates under rider are innate and what has been trained. Breeders can know very early how successful they were in meeting their breeding goals. Breeders and owners can benefit greatly from bringing their foals and young horses to one or more of these events which are organized annually around the country. We encourage your participation in this program! Keep an eye on this site to see where Young Horse Linear Description events are occurring and/or organize such an event yourself. Contact the breeding leader for information and assistance!
Useful links