USIHC Virtual Shows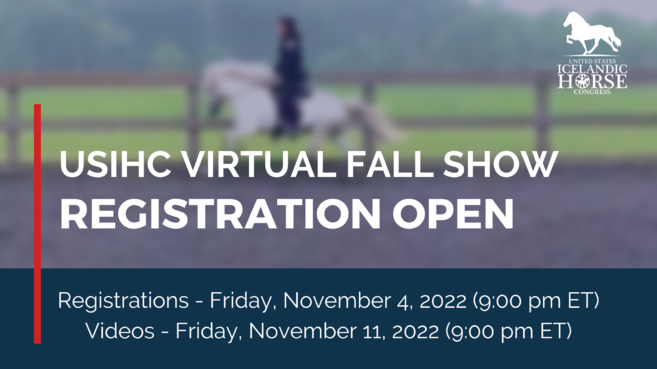 The 2022 Virtual Fall Show features:
National Ranking classes
Fun classes (no oval track required)
5 Judges
Division Championships
New Novice Horse Classes
Whether you're looking to practice for future events or to compete in the USIHC National Ranking, the Virtual Shows are a great opportunity to receive feedback!


New Classes have been added for 2022:
Two Novice Horse classes, tolt and 4-gait, have been added and are meant for Green Horse graduates, all riders are eligible.

A Pleasure 4-gait class has also been added. (There are a total of 3 "Fun" classes; Pleasure tolt, 3-gait and 4-gait). Fun classes may be ridden in any reasonable size riding arena. (Use of straight ways, like a drive way or roadway, is no longer allowed.)
2022 Virtual Show Dates

Fall Virtual Show
Register by Friday November 4, 2022 (9:00 pm EST)
Videos can be made from May 21 through November 11, 2022
Videos must be submitted by Friday, November 11, 2022 (9:00 pm EST)

Fall Show Judges
Thorgeir Gudlaugsson - FEIF International Judge
Hulda Geirsdottir - FEIF International Judge
Sophie Kovac - FEIF International Judge
Alexandra Montan Gray - US Sport Judge B
Coralie Denmeade - US Sport Judge B
Important for Virtual Shows:
All classes (except the 3 Fun classes) must be ridden on at least a 200 m track (or its' equivalent).
Classes must be ridden as they are described. Follow gait order when stated.
Videos should be started as the rider enters the track and end following the equipment and rider ID check. All classes should begin their programs in the middle of a short side (with a nod of the riders head).
Please see documents on class descriptions and registration checklist.
Rider's Meeting:
All NEW riders must check-in with Leslie Chambers, any time prior to registration.
Please email: lchambers17@comcast.net or call/text 860-334-8259 for your meeting.


Questions? Please contact Leslie Chambers at lchambers17@comcast.net



Thank you to our 2021 Virtual Shows Sponsors
Antje Freygang
Anne-Marie Martin
Leslie Chambers
Charlotte Reilly
Cathy Luo
Karen Azoff
Flying C Ranch Tack Shop
Amy Goddard
RJ Argenzio-West
Kathryn L Kalan
Tölt Tack
Harmony Icelandics
Susan Whitakerhill
Samantha Tuttlebee
Caeli Cavanagh
Ebba Meehan
Martina Gates