Support the 2023 US World Championships Team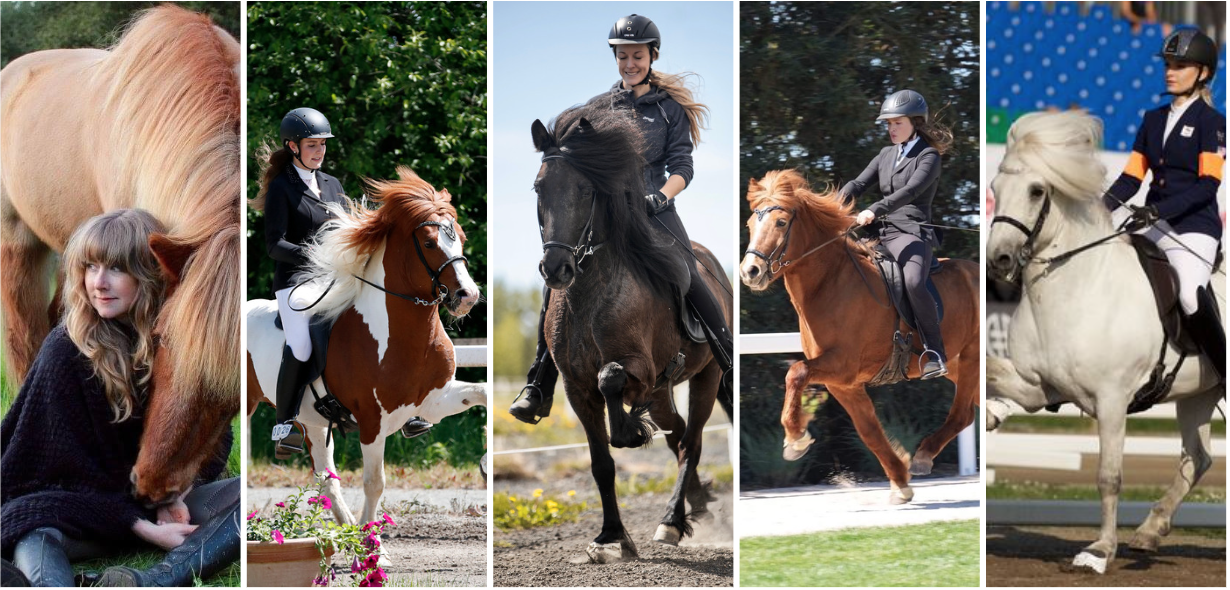 USIHC is proud to be sending a team of five riders to represent the United States at this year's World Championships, August 8-13, in Oirschot, The Netherlands.
The World Championships are organized every two years in one of the FEIF member countries and are an opportunity to experience the biggest stars in breeding and sport. Horses and riders travel from all over the world to compete.
These extraordinary riders have dedicated themselves to rigorous training and have earned their place on this international stage. Your contribution, no matter how big or small, will directly impact our team at the World Championships. Additionally, we welcome you to send personalized messages of support and encouragement to our riders.
Stay tuned for more updates as the team travels to and competes in Oirschot!

Click here to Donate

2023 US Team
Laura Benson (T2 = 7.03)
Fleur Brown (T1 = 6.57)
Caeli Cavanagh (T2 = 6.53 and F1 = 6.47)
Alex Dannenmann (T1 = 6.73 and V1 = 6.73)
Jenny Melville (T2 = 6.73 and V1 = 6.2)
Meet the Team

Laura "Lala" Benson
Lala was introduced to Icelandic Horses at just 13 years old, when she assisted Guðmar Pétursson in the Knights of Iceland's performances & day demos. She followed him to Kentucky as a full-time intern, and then followed him to Iceland, where she eventually worked under acclaimed Icelandic Horsemen such as Mette Manseth, Sigurður Sigurðsson and Páll Bjarki Pállson.
In 2010, Lala became the first American to graduate from Hólar University in Iceland, receiving a Bachelor's Degree in Equine Science. Upon graduation, she was given the high point 'Ástund Reiðmennska' award for best horsemanship.
From 2005 to 2011, Lala's enthusiasm for Icelandics grew one of the largest youth riding programs in North America - this was the foundation for many competitive young riders such as Caeli Cavanagh, Ayla Green, Lucy Nold, Madison Prestine and Carrie Lyons Brandt, who are now trainers themselves with great results in National and International Competition.
Since 2013, Lala has been a leader in promotional efforts for the Icelandic Horse:
Co-Founded & assisted in organizing the first three North American Youth Cups
Created Resonant Riding with partner Carrie Lyons Brandt of Taktur Icelandics
Joined the USIHC Trainers Certification Committee, who published the first trainers certification system for the US
Elected and still standing as Team Leader for the Knights of Iceland, where she is in charge of music, choreography, production & costumes
Nominated as FEIF (international) Trainer of the Year in 2019
Led the national ranking in V2 (open four gait), T2 and T4 (open loose rein tolt) in 2021
Achieved #1 horse & rider combination in the world in T4 (loose rein tolt) in 2022
Qualified for the 2023 US World Championships with the highest score on the team
With a passion for the growing Icelandic Horse community, Lala is currently focused on building a network to share her expertise; she spends her time managing her own training business in Duvall, Washington, while she simultaneously competes, trains and teaches with partner Carrie Lyons Brandt of Taktur Icelandics in Kentucky. Carrie and Lala also travel around the States teaching their Resonant Riding training method which they developed together - based off of Classical dressage, Icelandic Horsemanship, Flow psychology and the creative process of jazz improvisation.
Fleur Brown
My name is Fleur Hellarose Brown, I am 22 years old and this year I am representing the USA with my horse Ás Eyfjörð frá Bakka at the World Championships in Oirschot. Born in the Netherlands to a German mother and an American father and raised in France, I now live in beautiful southern Germany and will be studying law in October.
Although I found my love for horses and this sport as a child with show jumping and dressage, I discovered my fascination for gaited horses shortly after. With Spinho, my Brazilian Mangalara Marchador, I got my first taste of competition and set my first riding goals.
Over time, I began to focus more on Icelandic horses, which fascinated me with their versatility and pleasant nature.
In 2020, Ás Eyfjörð surprisingly came into my life and I knew immediately that he was my "once in a lifetime horse".

In the last three years we have been able to learn a lot from each other, grew together and set ourselves bigger goals step by step. Above all, he became not only my team partner, but first and foremost my best friend.

And now here we are! It is a great honour to have achieved this dream - with ambition and willpower, but above all with a lot of fun and passion for the Icelandic horse, to represent the American team at the 2023 World Championships in Oirschot.
Alex Dannenmann
My name is Alex Dannenmann. I moved to the United States 10 years ago and have worked full time with Icelandic horses my whole life. I'm IPZV Trainer B, FEIF International Sport Judge and won the FEIF Trainer of the year award in 2017. My job enables me to travel from North America over Scandinavia to other parts of Europe- I am everywhere where Icelandic horses are, in order to train, teach and judge competitions. However, as much as I love traveling the world, I always return to the United States with a feeling of coming home. I feel honored to participate for the USA at this year's World Championships, alongside my fantastic horse-partner Ára, and look forward to being part of a great team. Thank you for the opportunity and see you all soon in Holland!
Caeli Cavanagh
Caeli and Theyr are excited to represent the United States at the World Championships this year. The two have been together for seven years and share a special bond — he was the horse that Caeli trained for her final exams in both the first and third years of Holar University. While there, they also developed a reputation for their unique liberty work, which they performed at Laufskalarett in Saudarkorkur, as well as at Landsmot 2018.
Caeli was the third American to ever attend Holar University College's Bachelor's program in Riding and Riding Instruction, where she graduated with the highest combined score of riding and academics in her class, as well as with the honor of first class with distinction. Since graduating and moving back to the states, Theyr and Caeli have continued to develop together.
Though COVID put a damper on their competition plans, in 2021-2022 they came back with a splash, clinching the top National Ranking in Five Gait in 2022 and earning the most Good and Harmonious Riding nominations in the world out of 140 nominated riders pulled from 2700 riders at World Ranking Events. This is where several judges started recommending that they try out for the World Championship team, and, with a little convincing and a lot of coaching and help from friends and fellow Holar graduates Carrie Brandt, Laura Benson and Sigvaldi Larus, they are excited to represent the United States on the world stage in the Netherlands this summer.
Jenny Melville
Jenny and her horses, Feykir and Hljómur, are very much looking forward and very honored to represent Team USA at the World Championships 2023 in the Netherlands.
It is the fourth time for Jenny to qualify for the World Championships and the third time for Feykir. Last time, this team reached the finals in T2. Feykir and Jenny have been a team since 2016 and they know each other very well.
Hljómur and Jenny are a newer team and they are very happy for having reached the goal of qualifying for this year's World Championships as well.
Jenny is a professional horse therapist for osteopathy and physical therapy. Even though most of the farms, which have been family owned for over 100 years, are located in Illinois, she is managing an Icelandic horse farm in northern Germany while also breeding Icelandic horses in Iceland.
Next Blog Post
The 2024 FEIF Youth Cup will be held July 13 - July 21, 2024, in Münsingen, Switzerland. The tryouts will be held in combination with the 2023 Virtual Fall Show. The FEIF Youth Cup is a bi-annual event…