Registration is open for the 2022 Sea 2 Shining Sea Ride!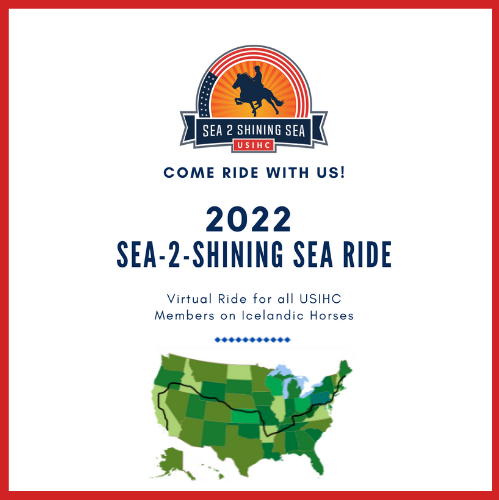 Registration is open for the 2022 Sea 2 Shining Sea Ride!
Sea 2 Shining Sea is a year-long virtual ride on Icelandic Horses. This 4,000 mile 'ride' follows the route taken by Annie Wilkins from Minot, ME to Hollywood, CA. Annie's story is shared by Elizabeth LeIs in her book The Ride of Her Life. The ride begins on January 8, 2022 ending December 31, 2022. Each checkpoint will count for 200 miles or 50 hours of riding. (Actual distances between locations may be slightly more or less than 200 miles)
Riders can participate as individuals or teams. Registration is online at www.icelandics.org . All participants must be US Icelandic Horse Congress members throughout the ride to log their hours. participants log their time riding which is converted to distance at 4 miles-per-hour. This is easier for everyone to record. If you are riding as part of a team you should log your individual time. The website credits your rides to the team you joined. Teams may have up to six riders.
Horses used in the ride must be Icelandic Horses, either fully registered or have obtained a participation number from USIHC after being DNA verified. Registered horses do not have to be registered in the United States, any FEIF member country's registry or WorldFengur is acceptable.
The Sea 2 Shining Sea ride is for leisure riders. You participate by riding or driving your Icelandic horse however you like – if you are not being paid for the time. The route begins in Minot, ME travels 4,000 miles to Hollywood, CA. If a team would like to continue the additional challenge they may reverse the route to Minot, ME completing a total of 8,000 miles.
Once the week is over, you need to start your hours at zero again. Please, do not carry hours forward between weeks. Since this ride is aimed at leisure activities, we expect your weekly total will be under 20 hours. If you have a big week, you will need to e-mail your hours to s2ss@icelandics.org with a short description of what you did during the week. Lastly, hours count when you are doing an activity (riding or driving) with your horse...not watching someone's lesson or auditing a clinic. It is one on one with a horse, groundwork does not count (lunging, liberty, etc.)
We have created a Sea 2 Shining Sea Facebook page (hIps://www.facebook.com/groups/ 1866794093559110/) and encourage everyone to share photos and stories about their rides.
Next Blog Post
In accordance with Section 2 of Article IV (Voting and Elections) of the Constitution of the USIHC, The Election Committee accepted nominations until October 14, 2021. Incumbent directors Leslie Chambers,…