Janet Mulder Nominated for FEIF Instructor/Trainer of the Year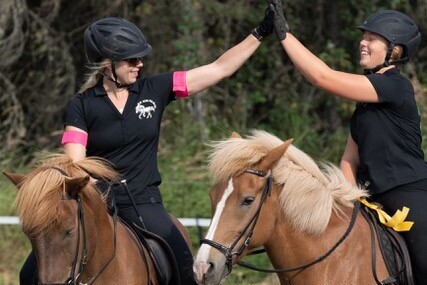 Voting is now open for FEIF Instructor/Trainer of the Year.

Each year, FEIF invites the member countries to nominate one individual as their top instructor/trainer for the year. The nominee for the United States is Janet Mulder and the poll is open this week. Click here or copy and paste https://www.feif.org/education-dept/trainer-of-the-year into your browser to cast your vote. You will either need to login or create a free account with FEIF.
USIHC is proud to nominate Janet Mulder
Janet began riding Icelandic Horses in 1993 and has been teaching riding lessons for the past 20 years. In 2002 she participated in the FEIF YouthCup in Norrkoping, Sweden. In 2006 she passed the USIHC Intern Judge Program Santa Ynez, CA. In 2008 she was certified by the USIHC as a FEIF Trainer Level 1 after completing a 2-week course in Rutledge, GA. She organized and rode in clinics for the Alaska Icelandic Horse Association from 2013-2021. In 2015 Janet formed the youth group "Tolt Alaska" and became the youth director for the Alaska Icelandic Horse Association (AIHA), a position she has held since.
In June 2018 she passed the Tölt in Harmony Level 1 Trainers course in Wasilla AK the only held in the US so far. In 2019 Janet joined the USIHC board as the leisure committee chair, organizing and facilitating the Sea 2 Shining Sea Ride.
In 2021, she attended the first USIHC Virtual Breeding Seminar and also the first Virtual FEIF Education Seminar, she taught two 2-day hybrid clinics with Trausti Guðmundsson and organized and taught the annual youth camp with a total of 10 riders. She also organized a schooling show for AIHA and worked with the USIHC to become partners with the United States Dressage Federation to allow Icelandic Horses to participate in All-Breeds awards.
Janet is a nationally ranked USIHC Rider in T1, T2, and V1 riding horses that she has trained from foals, and she believes that there is no shortcut to developing your horse or yourself as a rider. Success comes from patience, understanding and timing!
Photo - Janet Mulder on Prins from Arctic Arrow, my student Robyn Schmutz on Vón fra Vindsdalur. taken by Bryan Mulder
Next Blog Post
In accordance with Section 2 of Article IV (Voting and Elections) of the Constitution of the USIHC, The Election Committee accepted nominations until October 14, 2021. Incumbent directors Leslie Chambers,…