Carrie Lyons Brandt Nominated for FEIF Instructor/Trainer of the Year

Voting is now open for FEIF Instructor/Trainer of the Year.
Each year, FEIF invites the member countries to nominate one individual as their top instructor/trainer for the year. The nominee for the United States is Carrie Lyons Brandt and the poll is open until January 17, 2021.Click here or copy and paste https://www.feif.org/education-dept/trainer-of-the-year into your browser to cast your vote.
USIHC is proud to nominate Carrie Lyons Brandt for FEIF trainer of the year 2020, as she found creative ways to teach, guide, and inspire.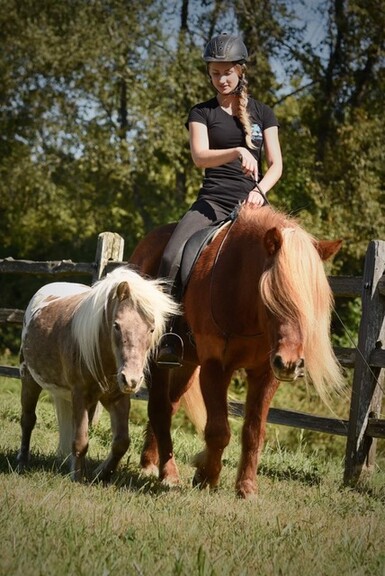 Carrie Lyons Brandt is a tireless promoter of the breed; as trainer, teacher, competitor and ambassador. Carrie possesses a unique talent for educating Icelandic horse owners about how to better understand the special qualities of the breed and has been an invaluable resource for the growing community of Icelandic enthusiasts in the United States.
Carrie was the second American admitted to Hólar University, graduated in 2013 and received the Morgunblaðið Award. Carrie holds a Bachelor of Science and is a certified FT Trainer and Instructor.
Carrie is extremely busy with her many endeavors to promote the Icelandic horse: her own training business called Taktur Icelandics; the Gaedinga Dressage initiative; the Knights of Iceland promotional show team; bringing educational opportunities to aspiring trainers in the Sleipnir club; she serves on the USIHC education committee and donates countless hours helping to write a U.S. trainer certification program.
Carrie worked hard to develop in the first ever United States Icelandic Horse Congress virtual sport competitions. She also successfully coached her students in online liberty and bridleless competitions and at the end of the year, Carrie judged the first ever virtual Knapamerki Riding Badge tests. Finally, the highlight of the year was the #nostirrupnovember freestyle competition, over 60 riders from across the globe participated, showcasing exemplary horsemanship, creativity, joy in their horses, and balance without stirrups.
Next Blog Post
The second USIHC Virtual Show launched August 1, 2020 and received submissions through December 4, 2020. The 2020 Virtual Fall Show featured both National Ranking and Schooling Show classes and offered…