Leadership and Liberty Clinic with Guðmundur Skúlason and Carrie Lyons Brandt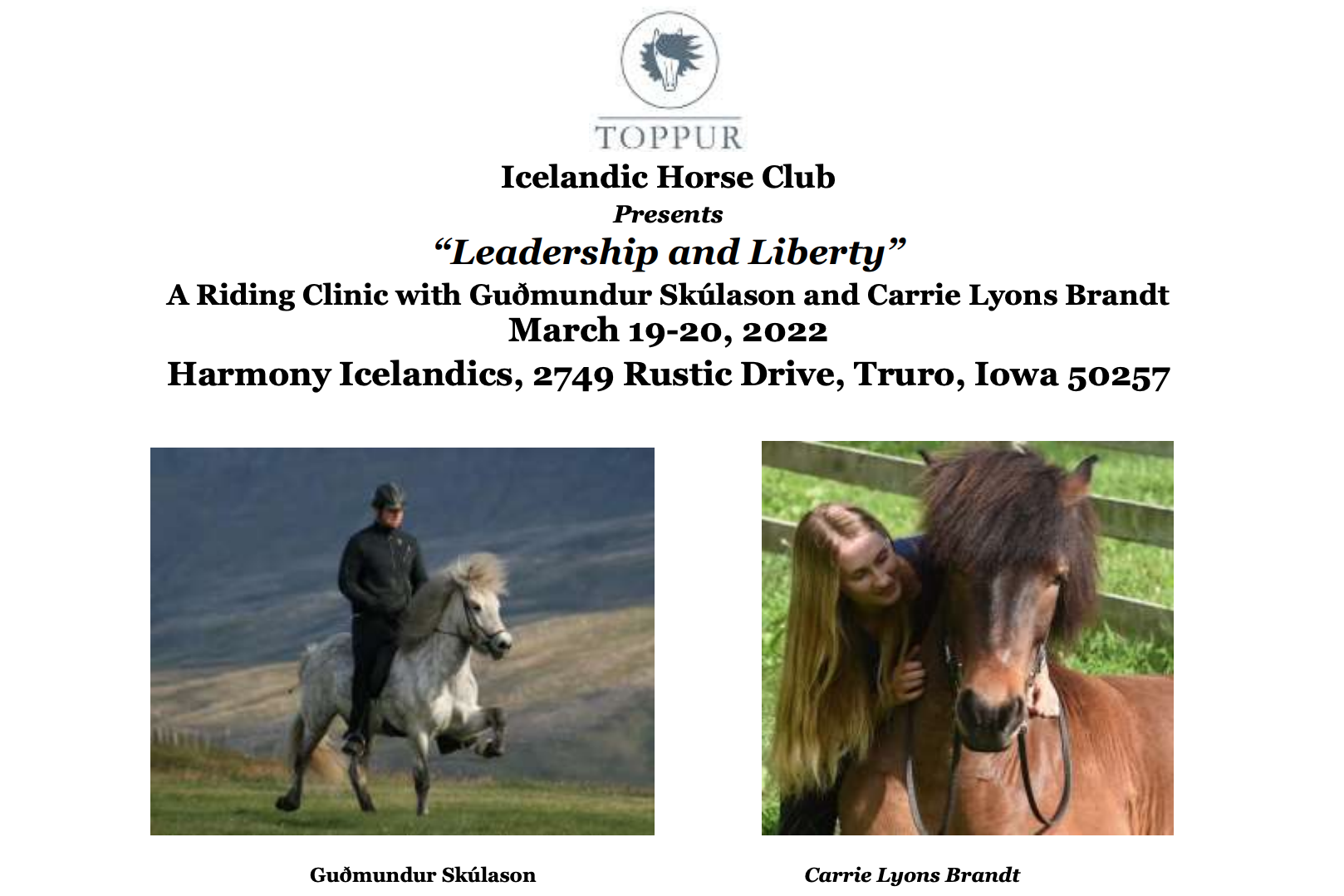 Learn how to better communicate with your horse! This clinic will give you tools to effectively establish leadership and perform liberty work. Each participant will have the opportunity to work individually with two highly regarded FEIF level III trainers.
Clinic Format
Group theory lessons: We will divide the participants into two groups. Each morning, Mummi will present a theory lesson on establishing leadership to one group and Carrie will present a theory lesson on doing liberty work to the other group. After the theory lessons each rider will have a private lesson with the trainer they worked with in the morning. On the second day, the trainers will exchange groups. Riders may choose what they wish to work on in their private lessons.

To participate, contact: Virginia Lauridsen; (515) 556-3307, virginia@harmonyicelandics.com

About the Clinicians
Mummi is a licensed riding instructor and member of the Trainers Association of Iceland (FT). He is a graduate of Hólar University College in Iceland with a degree in Equine Studies. Mummi breeds and trains horses and riders at his farm Hallkellsstaðahlið in Western Iceland. He is in high demand as a riding instructor and clinician in Iceland, throughout Europe and in the United States. Mummi is especially known for his expertise with young horses, and has trained hundreds of green horses in Iceland. He places emphasis on training methods which encourage the horse to cooperate willingly in a soft and sensible manner. Mummi continues to be very active in competition and has won numerous prizes in various disciplines of equine sports in Iceland, and is certified as a national judge.

Carrie is the second American to attend Hólar University. She graduated in 2013 with a Bachelor of Science degree and is a licensed riding instructor and member of the Trainers Association of Iceland (FT). Carrie received the Morgunblaðið Award for best riding and horsemanship throughout the three-year program. She has been the highest ranked rider in Five Gait (2013 and 2014) in the U.S. Icelandic Horse Congress National Ranking and has qualified numerous times for the U.S. Icelandic Horse World Championship team. More recently, Carrie has added liberty work to her training techniques and now competes regularly. She is also a featured performer in the fast-paced and fiery Knights of Iceland Show Team. Along with her husband Terral Hill, she owns and operates Taktur, a business dedicated to educating horses and people toward a harmonious relationship on the trail and in the show ring.
Next Event
Five-Gait Fall Open Oregon Horse Center in Eugene, OR National Ranking Show